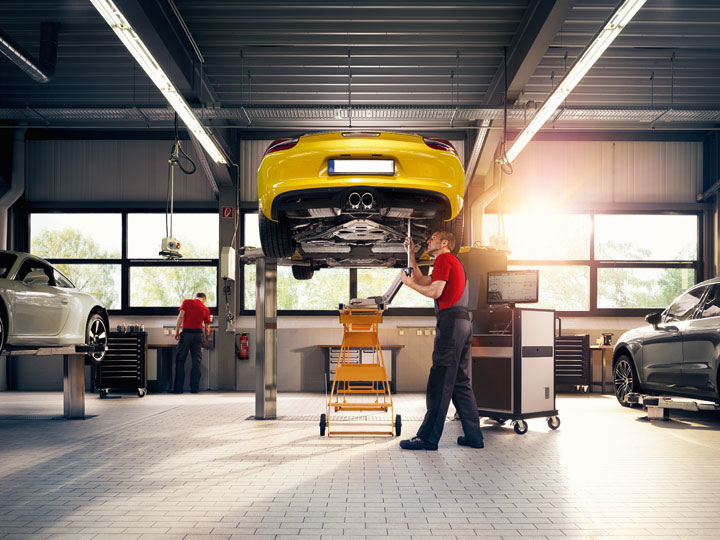 Visit MAG Porsche Dublin Near Columbus, OH for Pothole Service
Driving your Porsche through the streets of Columbus, Dublin, or Westerville is usually an enjoyable experience ... until potholes come along. When you can't avoid hitting a pothole, the experience is more than just jolting: it can damage your Porsche! At MAG Porsche Dublin, we want to make it easier for you to restore your Porsche to its former glory after it has an encounter with a pothole. Stop by our service department for our pothole service!
What is Included in Our Pothole Service?
When you bring your Porsche to MAG Porsche Dublin for our pothole service, our technicians will:
Perform a Tire Rotation

We will remove all four wheels from your Porsche, rotating them so that the rear wheels are in the front and the front wheels are in the rear. Depending on factory recommendations, we may also switch the sides of the right and left wheels. This will ensure more even wear for your tires.

Balance the Tires

Your tires may have become unbalanced from hitting a pothole. Unbalanced tires can cause serious troubles, making your tires wear down prematurely with wear patterns that are cupped or scalloped. Our technicians will inspect the balance and use precision instruments to adjust it when needed.

Perform Four-Wheel Alignment

Hitting a pothole may knock your wheels out of alignment. When this happens, you may have to struggle with your steering wheel to keep your Porsche moving straight. In addition, driving with misaligned wheels can cause one edge of the tires to wear out faster than the other, which means you'll have to replace them sooner. Our technicians will perform a four-wheel alignment and inspect the suspension and steering elements, ensuring that the wheels' camber, toe, and caster angles are properly aligned. If not, they will use precision tools to make the necessary adjustments.